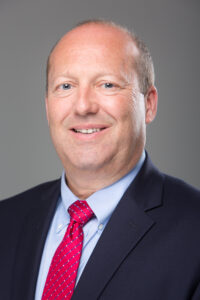 SPRINGFIELD, Mo., June 15, 2022 — Drury University has selected Dr. Jeffrey A. Zimmerman as the next dean of the Breech School of Business Administration. He begins his duties July 1, 2022.
Zimmerman has a bachelor's in computer science and economics from State University of New York at Albany; a master's in economics from West Virginia University; a second master's in economics and a Ph.D. in economics from Purdue University. He comes to Drury with extensive administrative and strategic planning experience, including curriculum design, program development, technology implementation and fundraising.
"Dr. Zimmerman is an innovative educator with extensive business school administrative experience who is committed to developing strong business programs at both the undergraduate and graduate levels," says Drury Provost Dr. Beth Harville.
Zimmerman has nearly 20 years of experience as a business dean, most currently as dean of the Robert W. Plaster College of Business at Missouri Southern State University in Joplin. He has also held administration positions in accreditation and program coordination. Zimmerman serves as a member of Peer Review Corps for the Higher Learning Commission as a Peer Review Team Chair, HLC Federal Compliance reviewer and multiple location reviewer.
Zimmerman is active in the community. Most recently engaging with the United Way of Southwest Missouri and Southeast Kansas as the 2019 campaign chair, Great Plains Federal Credit Union Board of Directors chairman, Joplin Rotary Club, Carthage Technical Center Business Advisory Board and the Watered Gardens Rescue Mission.
"I am humbled and honored to be selected as the next dean of the Breech School of Business Administration," said Zimmerman. "The Breech School is known for excellent academic programs, strong students and a faculty and staff devoted to teaching and research excellence. I am thrilled to be joining the team as we move forward into an exciting and opportunity-filled future."
###
Media Contact: Jasmine Bailey, Director of University Communications and Media Relations – (417) 873-7390 or [email protected]