Tax the gains from productivity improvement and you're more likely to get less productivity improvement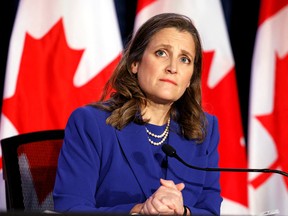 Article content
Now we're in trouble. The people who brought us airport and passport chaos are turning their attention to Canada's slow productivity growth. "On productivity, do not doubt our commitment," Finance Minister Chrystia Freeland told a Toronto audience last month.
Article content
To her credit, she also told them: "As I look around this room, I can see enthusiasm for the concept and a lot of skepticism about whether we can get it done … Canadians have been handwringing about productivity for at least three decades and we can't seem to make a difference."
To allay that skepticism, she listed big things her government has already done: a carbon tax, a Toronto technology sector that is outpacing Silicon Valley (Really? By what measures? Does the tech world agree?), and a national childcare program. This last "had long been promised — for 50 years it was promised but never delivered." She did not mention this was because Liberal finance ministers perennially nixed this perennial Liberal election promise.
Article content
But the productivity challenge is quite different. Yes, imposing a carbon tax was difficult politically and, for a time, in the courts. But if imposing taxes didn't come easily to governments, Canadians wouldn't be paying dozens of different taxes already. Nor is building up a technology sector in Toronto hard, provided you take enough money from other sectors and subsidize people doing technology in Toronto — which many of them might have done without the subsidies: we will never know.
Same for daycare. Offer enough money and you can bend the provinces in just about any policy direction you like.
But that's all very macro. Productivity growth is inherently micro. How do you induce people throughout the economy, in all sectors and industries, to produce more with less? For "more with less" is what productivity is: getting more out of your inputs, especially your labour.
Article content
Workers who produce more can be paid more and if they're paid more, they can acquire more goods and services — which is how living standards rise. Yes, yes, there's more to life than material things and enjoyable experiences like travel, concerts and restaurant meals but most of us ordinary folk out here do seem to take our things and experiences very seriously.
The problem is that every productivity improvement depends on what Nobel Prize-winning economist Friedrich Hayek called the "particular circumstances of time and place," the "dispersed bits of incomplete and frequently contradictory knowledge which all the separate individuals" in an economy possess. No individual, agency or government can possibly hope to possess all that information.
Article content
Here's a challenge for Ms. Freeland. She should do her own micro bit for productivity growth by producing the next federal budget with 10 per cent fewer people. She's been minister of finance for almost two years now and she's been in the government for seven. She must have a decent appreciation of the "particular circumstances of Ottawa in 2022." She must know where the deadwood is. She must have heard from her employees which forms they spend their time filling out that aren't really required, which tasks don't really need to be done and which work rules slow down even the most essential jobs. If she can get the budget done and at the same time free up 10 per cent of her work force, that 10 per cent could be put to work on other useful things. (Yes, "other" implies I do think the federal budget is a useful thing, if more useful under some governments than others.)
Article content
William Watson: Your man from Google

William Watson: U.S. court rulings not in Trudeau's jurisdiction

William Watson: Workers quitting daycare? No story there
Or the freed-up 10 per cent could be released to the private sector, where they would face important additional inducements to productivity improvement, beyond the urgings of their minister. If a private business figures out ways to do more with less, it can lower its price, get more customers and make more money. If it can get all its employees thinking productivity, it can make streamlining, innovation and profit generation a continuing process. 
How likely is that? People being rewarded financially for the higher productivity they bring about sounds like a very sensible way of marshalling the zillions of bytes of information that, as Hayek taught, the process depends on. But enter Minister Freeland again. She and her provincial counterparts want a quarter of what any company earns from productivity growth and up to half what the workers involved might earn. Yes, if government seizes a good part of the reward for innovation, some innovators will try harder so as to make whatever bundle they have in mind. But how many of us are so fiercely and perversely determined? Tax the gains from productivity improvement and you're more likely to get less productivity improvement.
Article content
And don't forget the minister's cabinet colleagues, who want a detailed say about how the country's various businesses operate and are willing to regulate in the most intrusive and cumbersome ways to have their generally anti-productivity preferences prevail. 
Russia's invasion of Ukraine apparently has persuaded Ottawa there may be merit after all in developing liquefied natural gas exports. But there will be no subsidies, the relevant minister has warned — though why not is a puzzle since any terminus will be in Atlantic Canada, where just about everything that moves is subsidized and many things that don't. But the federal government will try to facilitate matters to help out our German allies.
This will be a good first test of Ottawa's commitment to productivity. Best of luck to you, shivering Germans!